Brief thoughts on the festival as a whole; a quick day-by-day accounting; rankings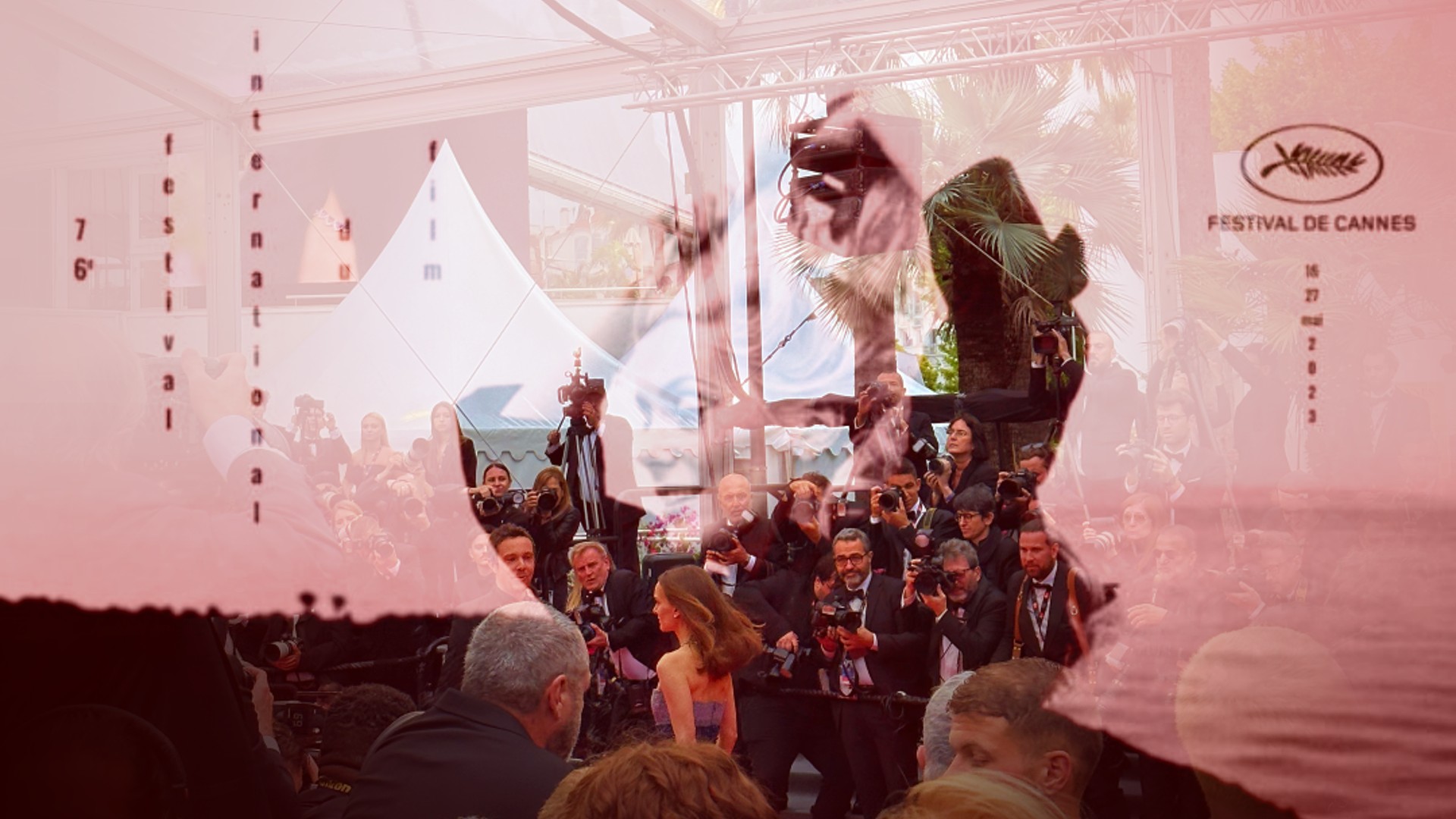 Intro: Back in Black [Tie, Repeatedly, For 11 Consecutive Evenings]
It was March 2020 and the future was bright. My whirlwind "3 Days In Cannes" in 2018 had functioned as a gateway drug, followed by a full-festival bender in 2019. Despite having a badge that came with no ability to book tickets, I'd managed to catch every single film in competition that last year—a grueling process requiring a tolerance for uncertainty; sleeplessness, sweat, and dry erase markers. The gems (Parasite, Portrait of a Lady on Fire) had made all the pain worthwhile, but this time around there was no need to suffer: I'd just been approved for a Press accreditation.1 Throw in a kickass AirBnB three blocks from the Palais and a business class upgrade booked with United points, and I was ready to experience the Croisette in style.
You know the sob story. We all have specific experiences we lost to the pandemic, and I'm under no illusion that my first world problems deserve anyone's pity. But for the full duration of lockdown it weighed heavily as a symbol, that theatre packed with 2,300 strangers from every corner of the globe. It was the Platonic ideal of the Thing I Can't Believe We Used To Do; communal, spontaneous, anxiety-free. When my (now) wife threw me a Cannes-themed birthday in May 2020, it wasn't just commemorating a single cancelled trip. It was about that special, transportive feeling of being totally surrounded. Here's what I wrote at the time:
When will I sit in an auditorium with 2300 strangers again? Will every cough make me anxious? Will I wipe down my seat? Will my bowtie be paired with an N95 mask? Will we even be able to fully let go, with our mortality making so much goddamn noise? Film will survive, and I'll continue to love it, but there's a naivety I'm not sure I'll ever get back.
My fear was misguided; we did get it back. Some quite a bit sooner than others. To this asthmatic who's had a lifelong struggle with breathing-related panic attacks, the pandemic has been long and the journey very slow. I didn't re-enter movie theaters until 2022, and even then it'd be for half-empty screenings, mask firmly affixed (and still is, as I type this on the plane). When I finally came down with COVID this past December, it was predictably miserable but also something of a relief. I would still maintain precautions, but I resolved to no longer let them stop me: This year, I was coming back to Cannes.
Walking into the Grand Théâtre Lumière for the first time in four years, I was flooded with an emotion that had nothing to do with what was on screen. Chaotic life continued. I could sit shoulder to shoulder with total strangers dressed to the nines for no reason; I could lose myself in the accumulated pitch of 2,300 creaking chairs and the percussion of whispered consonants in languages I don't speak; I could feel the swell when the lights went dim and the curtains opened and that Morricone theme began—the shared hope that something beautiful might occur. Even if it never did, the hope alone would be worth it. It feels so good to wait with baited breath, together.
Luckily, I was able to do more than hold my breath. This was a fantastic couple weeks for watching movies, and I'd like to think I made the most of them. As with every year, chaos reigned supreme: I rarely had a ticket for anything until a few hours before the screening, and even my best planned days had their fair share of curveballs—infuriating rule changes, setbacks at security, tuxedoed sprints through crowded streets in the 4pm sun. Within that chaos, though, the new online booking system (paired with some nifty new tricks I'll refrain from sharing in case I come again in future years) meant I was able to easily surpass my previous record. I caught 36 films this year, including 20/21 of the Competition slate, a handful of Un Certain Regard and Directors' Fortnight screenings, and some of the buzziest Out Of Competition titles.2 The vast majority of these were premieres of some sort: I walked the red carpet a total of 22 times,3 which is a stat I'm pretty certain I never want to top. Nearly every one of those 36 had something to recommend it; at least a dozen I'd consider "great" and four or five were outstanding.
Every year the movies start to rhyme after a while, and this was no exception. Two related ideas in particular kept coming to the surface. The first has something to do with cognitive dissonance, with carving out meaning in a world constantly bombarding us with tragedy. How should we then live? What is that peculiar, human quality that lets us compartmentalize suffering—turn down the volume on the broadcast—and what happens when that hardens to a callous? Romantic, deluded, jaded, evil; radically different fruit born from the same root impulse. The second is about the illusion of control—the walled-off worlds we create for ourselves, the conscious narratives we draft, the rehearsals we conduct or the details we get lost in in an attempt to understand the unimaginable. Blustery lawyers, meticulous directors, actors seeking truth through imitation. When the light itself is blinding we focus on the shadow, or squeeze it through a pinhole to scale it down to human size.
One personal revelation was also hammered home on this trip: I am not invincible. Hindsight coats everything in a romantic sheen, but the truth is my first three days were pretty miserable. Maybe it's age or the pandemic sleep schedule I've honed to a routine, but jet-lag wreaked absolute havoc on my system. For days I slept at most two hours a night and barely ate as a result. I remember one call in particular, despairing to Joanna that the sun was coming up and my alarm would be going off any minute. "Why set an alarm?" she asked. "What movie could possibly be more important your health?" She was, as usual, spot on. In that moment I cleared my morning schedule and, incredibly, fell asleep—a trick I'd repeat for many nights to come. I started to carve out dedicated blocks for naps and meals and treat them as inviolable. I even got back into running, at least 3 miles at least every other day. All of this cost me about ~10 additional screenings. I'd make the trade again in a heartbeat.
And with that, here's a rapid-fire (no more than two sentences per entry, albeit with some serious semicolon and em-dash abuse) round-up of everything I watched at Cannes.
Daily Recap
"CO" denotes In Competition, "OOC" Out Of Competition, "UCR" Un Certain Regard, "DF" Directors' Fortnight. "§" denotes a premiere.
DAY 0
I skipped the opener Jeanne du Barry over the Johnny Depp of it all, so this day was a gimme. Which is to say, I spent the entire afternoon trying and failing to sleep.
DAY 1
DAY 2
The Sweet East, Williams [DF§]: An absurd, fantastical, vulgar road trip through America and its litany of Terrible Types Of Guys, as seen through the eyes of a disillusioned high school senior. This one was scrappy and overstuffed in a way that you'll either love or hate: personally, I had a friggin blast. (Review)
I skipped Wang Bing's Youth (Spring) premiere, telling myself I'd catch it the following morning. Jet lag had other plans; this remains the single competition film I was unable to catch.
That evening, I had my first and only failure at booking: Indiana Jones and the Dial of Destiny. A blessing in disguise, as this gave me time to eat my first actual, sit-down dinner of the trip.
Black Flies, Sauvaire [CO§]: An intense drama about an FDNY first responder who starts out as an idealist but is quickly beaten down by the job, this one is wall-to-wall misery porn. Well-executed for the most part, but socially verging on reprehensible; its moments of grace were too halfassed to counter the queasy vilification that preceded them. (Review)
DAY 3
As mentioned above, jet lag led me to cancel my morning Youth (Spring) reprise. Then, in what will probably go down as my biggest mistake of the festival, I intentionally skipped Nuri Bilge Ceylan's About Dry Grasses to catch Cate Blanchett in…
The New Boy, Thornton [UCR§]: A plodding Australian historical drama about a nun who takes in orphans and an Aboriginal boy who challenges her preconceived notions. What began as merely "somewhat slow" eventually proved interminable, and indulges in tropes I can't believe we're still doing in 2023. (Review)
The Zone of Interest, Glazer [CO§]: A chilling and immaculately composed Holocaust anti-drama, showing the largely muted home life of an Auchswitz commandant while the atrocities he's responsible for swirl in the periphery. This one was an absolute stunner from beginning to end—formally thrilling, emotionally provocative, moving in genuinely unexpected ways—and remained my favorite for the duration of the fest. (Review)
Four Daughters, Kaouther [CO§]: A documentary/narrative hybrid about a Tunisian single mother and her four daughters, two of whom are played by actors (for reasons better grappled with in the moment.) I truly have no idea how this will hit audiences in other settings, but experiencing it in close proximity to its subjects was one of my emotional highlights of the festival: I found it cathartic, incisive, and brave. (Review)
DAY 4
A Strange Way of Life, Almodovar [OOC]: A 30-minute Western about two former lovers, a sheriff and the father of the outlaw he's chasing. This is a barely-there little wisp of a story, but the cast (Pedro Pascal, Ethan Hawke) are always a pleasure to watch.
Goodbye Julia, Kordofani [UCR§]: The first Sudanese feature to premiere at Cannes, this uses a personal drama between two women (one a wealthy Arab, the other a Southerner she hires as a maid) to examine, by proxy, the tensions that eventually led to South Sudan's independence. Doesn't always get the levels right — it's so open-hearted it can sometimes seem trivializing, putting murder and racism on equal footing with minor relationship drama — but I found it moving just the same. (Review)
Killers of the Flower Moon, Scorsese [CO§]: A sprawling epic about the Osage murders in 1920s Oklahoma, Scorsese's latest is a minor miracle: It not only bears the weight of unimaginable hype, it does so with panache and surprising cultural sensitivity. A fantastic cast (particularly Gladstone and DiCaprio), an earworm of a score, and a potent narrative with killer directorial flourishes sprinkled in all combine to make this a brilliant, crowd-pleasing spectacle. (Review)
May December, Haynes [CO§] Exploring the relationship between a woman of tabloid infamy and an actress who seeks to portray her, this pitch black comedy is best entered blind. Extremely fun to noodle on and provocative by design, but it's got the sort of campy artifice that holds the viewer at arms' length: I never could fully sink my teeth into this one. (Review)
DAY 5
Banel and Adama, Ramata-Toulaye Sy [CO]: A Senegalese romance which unfolds like a cautionary folk tale about two young lovers struggling to reconcile duty and desire. The style is gorgeous, prone to lush, impressionistic flourishes; visually striking, but ultimately lacking much staying power. (Review)
Anatomy of a Fall, Triet [CO§]: A courtroom drama about an author who may or may not have murdered her husband, Triet's latest was firing on all cylinders: exquisitely paced, emotionally ambiguous, with dialogue that absolutely crackles. The moment I saw this I felt it deserved serious recognition—while I wouldn't have personally given it the Palme, I'm happy to celebrate its victory. (Review)
Firebrand, Aïnouz [CO§]: A historical drama about Henry VIII and his (last) wife, Catherine Parr, this was virtually the definition of a middle-of-the-road biopic. Neither Vikander's nuance nor Jude Law's scenery-and-drumstick-chewing are enough to elevate it above a bloated episode of Game Of Thrones or a trashier Man For All Seasons. (Review)
DAY 6
DAY 7
Took the morning and afternoon off to do a relaxing bit of wandering through Antibes. Happy birthday to me!
Asteroid City, Anderson [CO§]: A movie about a broadcast about a play about an astronomical event in 1955, this kicks off like a sort of Moonrise Kingdom smothered in layers of narrative bubble wrap. Halfway through the film, though, something wonderful occurs, manipulating every layer in concert to achieve something profound: a thesis statement for what it means to be an Anderson movie, and one I cannot wait to revisit. (Review)
Kidnapped, Bellocchio [CO§]: A 19th century historical drama about a kidnapping and the subsequent political rift it incited, I found this movie slow as molasses and dramatically inert. Chalk it up to a late night screening and my inability to parse any Italian political subtext: This one didn't work for me at all. (Review)
DAY 8
DAY 9
DAY 10
The Goldman Case, Kahn [DF]: A riveting courtroom drama which sustains dramatic tension exquisitely through dialogue alone. Meat-and-potatoes filmmaking at its finest; this is the resonant political movie Aaron Sorkin wishes he could make. (Review)
In Our Day, Hong [DF§]: A series of conversations about life, careers, and growing old, this was very stripped down—which is to say, this was another Hong Sang-soo film. I love his delicate craft in general, and particularly resonated with the earnestness of this one. (Review)
La Chimera, Rohrwacher [CO§]: The story of a 1980s antiquities expert and his merry band of grave robbers, this film was in no hurry to let me in: formally immaculate yet chilly. Eventually, though, as its beating heart surfaced, it became one of my highlights of the festival. (Review)
The Old Oak, Loach [CO§]: A parable about the residents of a small North England village who learn to build community with a group of Syrian refugees, this thing was syrupy sweet and morally obvious even by Loach's standards—with a message of "class solidarity" so blinding you could see it from space. Look, I'm not saying it didn't make me cry; I'm saying the only qualities separating this from one of those cheesy Kevin Costner vehicles (wherein middle-aged white people learn to be incrementally less racist) are accents and geography. (Review)
DAY 11
About Dry Grasses, Ceylan [CO]: A sweeping, novelistic character study about a disillusioned school teacher living in rural Anatolia, this is very much a Nuri Bilge Ceylan movie: long philosophical conversations, beautiful landscape photography, a feeling of restless discontent. I love Ceylan and his continued shift towards (what seems like) a more personal mode of storytelling; there are grace notes here that have lingered with me for days. (Review)
A large break in the afternoon gave me time for one last run down the promenade, a leisurely lunch, a nap, and a little bit of packing. Then I threw on the tux for one final red carpet walk, to attend the festival's closing ceremony. It was very cool getting to experience the awards announcements in person, as everyone from Quentin Tarantino to Orlando Bloom to Jane Fonda came on stage to pay tribute to the winners. For my money, the jury did a pretty great job this year: Most of my favorites were awarded in some capacity, even if the order didn't always line up with my preferences. For comparison, check out my pre-ceremony predictions on Twitter.
Elemental, Sohn [OOC§]: An object lesson about diversity, a coming-of-age story, and a romance blended into one, this sees Pixar continuing where Turning Red left off—encouraging creators to tell personal stories and trusting that something universal will arise from the specifics. I fear that this may not connect with kids, but after two intense weeks of adult moviegoing I was happy to embrace my inner child in their place: this big-hearted, communal celebration made me cry. (Review)
Rankings
Combining In Competition and Out of Competition because, dammit, I want Scorsese included in this. 1-5 were excellent, 6-10 were great, 11-17 I'd still unreservedly recommend, 18-21 I still liked more than I didn't, 22-26 no comment.
1: The Zone of Interest
2: Killers of the Flower Moon
3: Perfect Days
4: Anatomy of a Fall
5: About Dry Grasses
6: Monster
7: Occupied City
8: The Pot-Au-Feu
9: Asteroid City
10: La Chimera
11: Four Daughters
12: Club Zero
13: Elemental
14: May December
15: Fallen Leaves
16: Banel and Adama
17: Anselm
18: Homecoming
19: Firebrand
20: A Strange Way of Life
21: The Old Oak
22: A Brighter Tomorrow
23: Last Summer
24: Cobweb
25: Kidnapped
26: Black Flies

Plus, a few stray awards:
☆ Best performance in competition: Tie between Sandra Hüller, Anatomy of a Fall, and Koji Yakusho, Perfect Days
☆ Film in competition everyone loved which I largely didn't "get": Fallen Leaves
☆ Film in competition I'd strongly go to bat for despite many people hating it: Club Zero
☆ Best film of Un Certain Regard: Omen
☆ Best performance of Un Certain Regard: Virginia Efira, All to Play For
☆ Best film of Directors' Fortnight: The Goldman Case
☆ Best performance of Directors' Fortnight: Pierre Niney, The Book Of Solutions

Conclusion
That's a wrap on this year's update! As with every year, it's been a chaotic festival and I wouldn't trade it for the world. Whereas previous years always ended with the hope in something better (from 3 Days to Cinephile, from Cinephile to Press), this time around I really think I've found a groove: I can sleep, eat, exercise, and still catch 3-4 films a day while only mildly losing my sanity. And although I'm sad to have missed Wang Bing's (by all accounts piercing) documentary, there's something liberating about it as well—absent the ability to be a completist, I feel like I was able to forge something better. If I attend Cannes next year, I'll be able to do so in a sustainable way. And if I miss it, I won't take it as a personal failure or a stand-in for Everything We've Lost.
After this latest trip, Cannes feels less like a lofty goal or object of conquest, and more like a curmudgeonly old friend. I love it, I hate it, I'm tired of it, I miss it, and I can tap into it whenever I need to be refilled. Whether we cross paths again next year or life gets in the way, its continued existence is a comfort to me: We're still capable of tuning out the coughing, turning down the lights, and taking part in one collective, held breath.
---
In 2018 I assumed all of Cannes would be like some prestigious, single track conference: sipping red wine and star-sighting over leisurely breaks between sanely scheduled screenings, each with guaranteed seats. If experience quickly dispelled that myth, I wasn't ready to give it up entirely. Instead, I convinced myself that it existed only for members of the Press. If you're a journalist reading this, don't tell me the truth. The grass is always greener, etc.↩

Yep, that one.↩

Defined here as attending a premiere in the Grand Théâtre Lumière with the cast, crew, and paparazzi present. I don't want to get into the weeds of "gala" vs "non-gala" screenings and which premieres technically allow for less formal attire—if it was after 3pm and at GTL, I was on the carpet in a bowtie. ↩